Up next, ttvnews presents a selection of 10 titles aimed at kids and teens, which will soon make its debut this upcoming season in Latin America.
Teen content is experiencing a boom in Latin America, promoted mainly by the Covid 19 pandemic, which saw families confined to their homes in search of entertainment.
In addition, an expanded content offer bolstered by the launch of numerous new streaming platforms has caused the demand for content to grow even more.
The following is a selection from of 10 new titles that will be released in 2021 in Latin America:
Club 57 (T2) (Nickelodeon)
On June 14, Nickelodeon Latin America will premiere the second season of its youth musical series Club 57 (60 × 60'), a co-production with ViacomCBS International Studios and The Mediapro Studio, made entirely in Colombia.
Created by screenwriter Catharina Ledeboer, the series stars Venezuelan actress Evaluna Montaner de Echeverri, Italian actor Riccardo Frascari, Colombians Sebastián Silva and Andrés Mercado, Chilean Carolina Mestrovic, Venezuelan Fefi Oliveira and Cuban Isabela Castillo, a who are joined by the Argentine actor Santiago Achaga, the Ecuadorian Johann Vera and the Colombian Carolina Angarita, Isabella Barragan, Nataly Vasquez and Daniela Pérez.
The award-winning Argentine-Venezuelan singer-songwriter Ricardo Montaner, the musical producers Mau and Ricky, and the Colombian singer-songwriter Camilo Echeverri will be, once again, in charge of the soundtrack for this second season.
In this new season, Eva and Rubén continue their chaotic jumps in time. But, this time they are not the only ones, they will meet unexpected travelers who will not only put their intelligence in check but also their hearts.
Miracle Tunes (TV Azteca Internacional)
TV Azteca Internacional announced an exclusive distribution agreement with Showlab, one of the most important media companies in Italy, for the distribution in Latin America, the Hispanic US and Puerto Rico of the children's series Miracle Tunes. Miracle Tunes is a 51 episode live show based on the famous Japanese homonymous format adapted by Showlab that seeks to convey a relevant message to children through dance and song.
The series tells the story of a music group made up of five girls who fight evil through the positive energy they transmit through their performances.
Juaco vs Paco (Cartoon Network)
Juaco vs Paco is the first original Cartoon Network animated series made in Colombia. The animation is created by the Colombian John Hernández and winner of the Crea Digital 2019 and 2020 call of the Ministry of Information Technologies and Communications (MinTIC) and the Ministry of Culture of Colombia. Juaco vs Paco premiered on Cartoon Network on June 7 at 7:00 p.m. and now airs every Monday at that time.
Juaco vs Paco tells the adventures of two 12-year-old twin brothers, soccer players and fans, who have never managed to enter a stadium and will do whatever it takes to enter "El Campeche", the popular stadium where their soccer stars play. favorite soccer.
Miracaulous: Tales of Ladybug and Cat Noire (Disney Channel y Disney+)
One of the most interesting international animations of recent times, Miracaulous: Tales of Ladybug and Cat Noir has a new season in store. Created by Thomas Astruc and produced by Jeremy Zag, it is a co-production of Zag Entertainment and Method Animation studios, in collaboration with Toei Animation, De Agostini Editore and SAMG Animation.
The series tells the story of Marinette and Adrien, two teenagers who are capable of transforming into the superheroes Ladybug and Cat Noir, respectively, thanks to the power of magical jewels called "prodigies". While Ladybug is a ladybug-inspired hero with the power of creation, Cat Noir is a black cat-based hero with the power of destruction. They must both use her powers to protect Paris from the villains who threaten her.
Agent Binky T2 (Nelvana)
Canadian company Nelvana brings to the region the second season of its successful animated franchise Agent Binky, in co-production with Discovery Kids in Latin America.
Based on the acclaimed Kids Can Press graphic novels, written and illustrated by award-winning author and illustrator Ashley Spiers, Agent Binky follows the adventures of Binky, a house cat with a curious and imaginative mind. The franchise showcases a lighthearted and imaginative series that encourages teamwork, friendliness stad and growth through daily adventures. The first 52 × 11' season was released in the region in 2020.
Bluey (Disney Cahnnel, Disney Junior y Disney+)
The third season of the multi-award winning series Bluey will premiere globally on Disney Channel, Disney Junior and Disney + in all territories outside Australia, New Zealand and China. Created by Joe Brumm and produced by Ludo Studio, Emmy Award winners for the Australian Broadcasting Corporation and BBC Studios.
Bluey follows an adorable and inexhaustible six-year-old Blue Heeler puppy who lives with her father, her mother, and her four-year-old sister, Bingo. In each episode, Bluey uses her boundless Blue Heeler energy to play games and turn everyday family life into extraordinary adventures.
MeteoHeroes (RTVE)
The first season of the MeteoHeroes series, the environmentally-themed animated children's program co-produced by Mondo TV and the main Italian weather forecasting center, Meteo Operations Italia (MOPI), will arrive in Latin America through the RTVE channels. MeteoHeroes is an animated series dedicated entirely to climate and environmental issues.
Each episode focuses on issues related to ecology and respect for nature through the adventures of six children who, through their superpowers, can control weather phenomena. Working alongside scientists and meteorologists at their futuristic headquarters in Italy's Gran Sasso Mountain National Park, the MeteoHeroes are trained to control their powers and fulfill their mission: save Earth. The series is distributed by Mondo TV Iberoamérica.
Kally's Mashup. ¡Un cumpleaños muy Kally! (Nickelodeon / Paramount+)
The first original film based on Nickelodeon Latin America's hit original musical series Kally's Mashup will hit Paramount+ in the coming weeks. The film, shot in Colombia, is directed by Jorge Navas and was written by Peter Barsocchini and Adam Anders. The fiction stars a cast that includes Maia Reficco, Alex Hoyer, Saraí Meza, Celeste Sanazi, Tom CL and the new members Johann Vera, Danielle Arciniegas and Carolina Ribon.
Kally (Maia Reficco) takes a wild trip to Colombia days before her birthday to play on the next catwalk of a famous designer in the country. While she is going through the best moment of her life, the problems begin when she meets the pop icon of the moment, Storm (Johann Vera), a star who has everything that is successful is also seductive and they both fall in love. her. Dante (Alex Hoyer), her great love, is not willing to lose Kally so easily, with the help of her sister Tina (Saraí Meza) and her friends Kevin (Tom CL) and Stefi (Celeste Sanazi ) will embark on a new adventure. Kally must decide what to do with her career and her heart.
Tinpo (Noggin)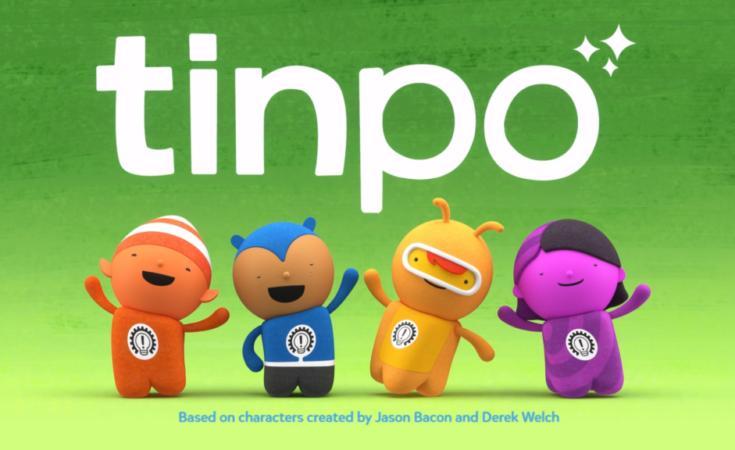 Distributor Spiral International announced a pan-regional agreement with Nickelodeon Latin America for the CGI animation series Tinpo, which will debut in August via Noggin, in both Spanish and Portuguese. Originally commissioned by Cbeebies in the UK, Tinpo comes from a partnership between Cloudco Entertainment, Dentsu Inc. and OLM, Inc. It was produced in association with Sprite Entertainment, Inc. (dba Sprite Animation Studios / OLM Digital, Inc.).
Tinpo is a 78-episode, seven-minute preschool series that combines unconventional construction and problem-solving themes. It focuses on Tinpo and his team, who solve problems in their world in the least practical, but funniest ways.
Athleticus (Nickelodeon Latinoamérica)
Nickelodeon acquired the exclusive pay TV rights for the two seasons of the CGI Athleticus series in Latin America, Asia and EMEA. The short-format series (60 × 2'15) is produced by the French animation studio Xilam Animation. Aimed at family audiences, Athleticus is produced by the CGI-Cube Creative studio, recently acquired by Xilam.
The series features wild animals participating in competitive sports, ranging from table tennis to bar, bobsleigh and curling. The success of animals in each of the sports depends entirely on their personality and anatomies, resulting in highly comical and often poetic results. The series is created and directed by award-winning Nicolas Deveaux.