The Golden Age of TV fiction is coming to an unexpected halt as the Covid-19 continues to spread. Hundreds of productions have been stopped, events canceled and establishments closed, causing the industry to rethink its business and development models.
In a week in which there is no other conversation topic than the coronavirus pandemic, the audiovisual industry isn't exempt from a crisis whose real impact is still uncertain, as more and more countries go on lockdown.
The unprecedented situation is causing events and meetings to be canceled, as well as series and movie productions, in addition to the closing of cinemas and thus premieres being postponed, which is affecting production schedules, the flow of capital, jobs and almost everything else.
SUSPENDED PRODUCTION
Content production companies are, as many other industries, being severely affected by the pandemic, with film and TV projects being postponed until further notice.
In Spain, the Audiovisual and Cinema Technical Union – TACEE published a list of the status of ongoing productions of series and films. As of Friday, March 13, the situation affected the following projects: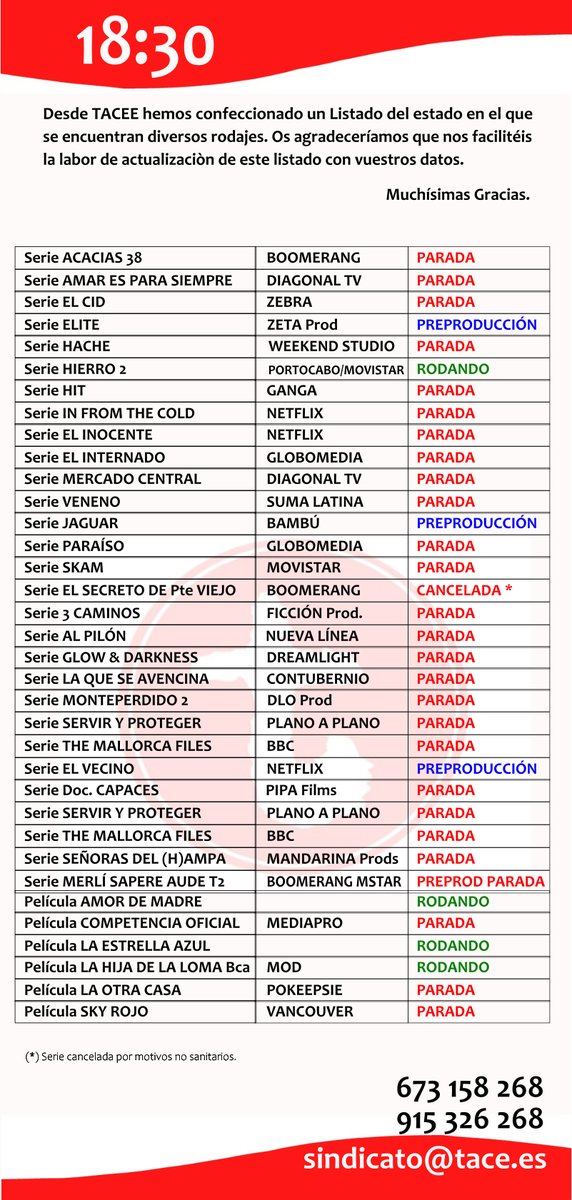 In addition, starting this Monday, the entire Spanish territory is under a State of Alarm, causing more than 25 series to stop their production.
The measure affects the main networks and platforms: Netflix (Élite, Hache, In From The Cold, El inocente, El vecino, Sky Rojo), Amazon Prime Video (El Cid, El internado, 3 caminos), Movistar (Hierro, Paraíso, Skam, Merlí Sapere Aude), RTVE (Acacias 38, Al pilón, Hit, Mercado Central, La caza. Tramuntana, Servir y proteger), Atresmedia (Amar es para siempre, Veneno) and Mediaset (La que se avecina, Señoras del (h)AMPA).
The list includes other titles currently being produced in Spain, such as The Mallorca Files by the BBC and Glow & Darkness, with no screen yet.
Netflix, in addition, announced the cancellation of its productions in the US and Canada. And this Monday, The Witcher was the first major production to be suspended in the UK.
The BBC also halted production for the sixth seasons of Peaky Blinders and Line of Duty. And Amazon did the same for Lord of the Rings.
En EEUU, Covid-19 has put a stop to filming for series such as Atlanta, Batwoman, Bull, Carnival Row, Chicago Fire, Dinasty, Fargo, FBI, For All Mankind, Grace and Frankie, Grey's Anatomy, New Amsterdam, Queen, Riverdale, See, Servant, Snowfall, Stranger Things, Supergirl, The Crown, The Good Fight, The Morning Show and Young Sheldon, among many others.
EVENTS ON THE LINE
Listing the many, many TV-related events that have been canceled has become a true challenge.
From major events like Miptv, Series Mania, LA Screenings, the NY Upfronts or the SXSW, to regional company presentations and production launches; everything has postponed to, at least, next June.
Aside from the economical impact this will have on the industry, the situation is already prompting players to find alternatives and rethink a system that seemed permanent.
"The TV industry has always been, and will probably always be, very much based on personal relationships. But there's no doubt that many companies will begin to notice the benefits and profitability of alternative means of communication, mainly digital ones," said Girts Licis, director of Strategy at K7 Media.
"As a result, we can experiment with a greater market transformation, as well as events and deals than we could have ever imagined a couple of months ago."
10-POINT SURVIVAL PLAN
In one of the first attempts to salvage the audiovisual production industry, the European Producers Club, based in Paris, proposed a 10-point plan of action:
• Projects in distribution:
Hundreds of finished European films and series are facing release cancellations or release delays, despite already having incurred considerable expenditures on these releases.
1. To set up a European and state scheme to compensate all stakeholders of impacted releases of European Audiovisual content including producers and distributors, for losses from reduced Box Office revenues, presales not fulfilled, as well as promotion campaigns spent fully or partially;
2. To enhance the release of cinema films through online platforms allowing for fair economic compensation to the producers and distributors of the film through liberalization of all regulations pertaining to media chronology and all other requirements needed to access public funding based on box office revenues and numbers of cinemas. This is particularly relevant as online distribution and consumption can greatly benefit the millions of people who are in isolation.
• Projects in preproduction and production:
Aimed at European films and series already in preproduction or already shooting:
3. That national governments emergency Funds will be established and free interest loans will be provided to cover the costs of the payment of freelance personnel, cast, crew and suppliers.
4. That European and state guarantees will be provided for insurance companies to cash back insurance claims due to suspension of production and to cover all producers' coronavirus related risks forthwith so that productions can start as soon as it was possible.
5. That financiers, broadcasters and platforms shall release producers from contractual deadlines and extend the validity of their financing decisions until the suspension period is over and where broadcasters or platforms are the main funders, for them to cover the costs of the suspension period from their obligatory production contribution quota;
6. That authorities shall delay tax, social security and other direct or indirect taxes both related to the shooting and to the production company; and shall cause the suspension of repayment of loans taken by producers in state and commercial banks.
• Projects in development:
7. To organise for public funding systems to maintain business as usual, without interruption, online if needed, and to provide increased development funding that secures stability for the project development teams;
8. To encourage both public and commercial broadcasters and OTT platforms enjoying our audiovisual creativity to continue and increase development activities in solidarity with the industry to be ready for a quick and efficient getting back on track.
9. To promote valuable content productions (positive, educational, health, optimistic) in commensurate variety to help audience cope with the confinement and stress.
• Sustainability of creative works:
10. To promote the acquisition by broadcasters and platforms of library productions of all European producers with a fair economic compensation to fill the gaps that the lockdown of cinemas, lockdown of productions combined with the increased online use will generate.